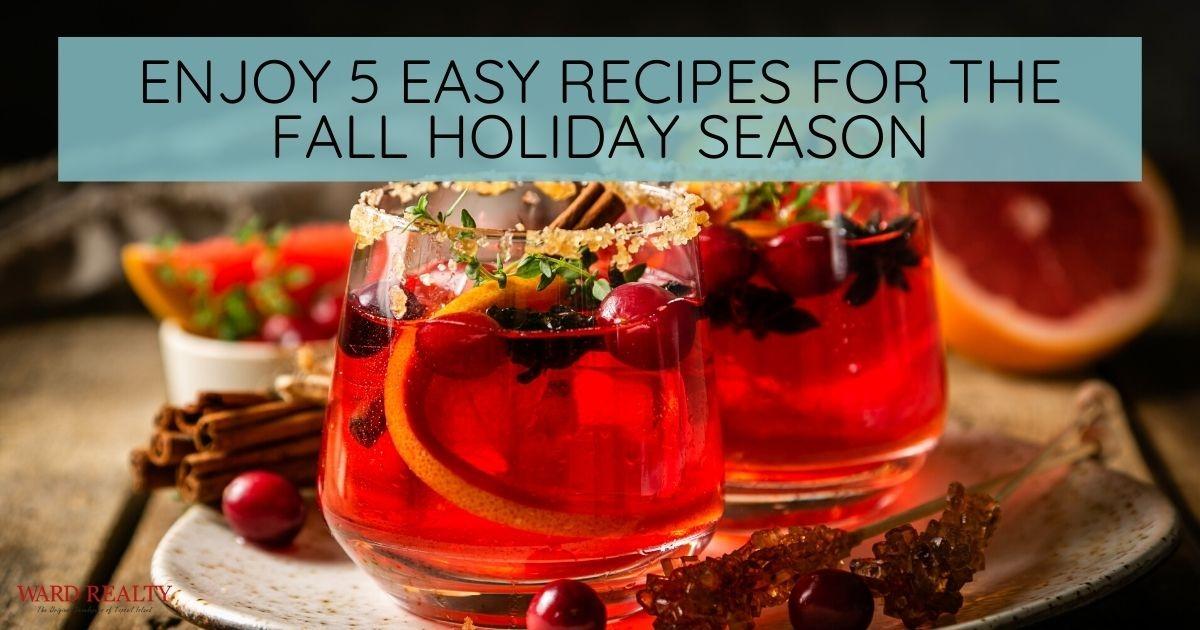 Fall is a magical time to visit Topsail Island, offering a unique blend of coastal charm and seasonal festivities. Imagine sipping on a warm, spiced drink while watching the sunset over the ocean. Sounds like a dream, right? Well, it can be your reality!
These savory fall recipes and drinks are perfect for enjoying from the comfort of your beach vacation rental. In this blog, you'll find a great set of fall recipes to enjoy this season, perfect for making memories with your loved ones while sitting around the table enjoying some amazing fall dishes!
Shrimp and Corn Chowder
Prep Time: 10 minutes | Cook Time: 30 minutes
With the golden autumn sun over Topsail Island, envision savoring a warm, hearty bowl of Shrimp and Corn Chowder on the deck of your cozy beach rental. With just 10 minutes of prep and a 30-minute cooking time, this comforting chowder is ideal for a relaxed evening by the shore.
Quick Recipe Steps:
Cook Bacon: In a large pot, fry bacon, remove, and set aside.
Sauté Veggies: In the same pot, sauté green onions and celery; add garlic.
Add Flour and Milk: Stir in flour, gradually add milk.
Add Corn and Shrimp: Add corn, bring to a boil, add shrimp, and boil until done. Stir in fresh thyme, half-and-half, and serve with bacon.
Check out Well Plated by Erin's Shrimp and Corn Chowder Recipe for a more detailed version of this recipe.
Bourbon-Glazed Carrots
Prep Time: 10 minutes | Cook Time: 15 minutes
Elevate your beachside barbecue with Bourbon-Glazed Carrots. The sweet and tangy bourbon glaze complements the tender carrots, creating a delightful side dish that mirrors the warm hues of an autumn sunset on Topsail Island.
Quick Recipe Steps:
Cook Carrots: Melt butter, cook carrot slices until soft, and set aside.
Prepare Glaze: Pour bourbon, add remaining butter, brown sugar, salt, and pepper, and boil until thick.
Finish: Add carrots back, and cook until tender and glazed. Garnish with parsley if desired.
For a more detailed version of this recipe, check out The Kitchn's Bourbon-Glazed Carrots Recipe.
Lemon Herb Mediterranean Pasta Salad
Prep Time: 10 minutes | Cook Time: 15 minutes
Transport your senses to the serene Mediterranean shores with our Lemon Herb Mediterranean Pasta Salad, perfect for a breezy fall afternoon on Topsail Island. The tangy lemon herb dressing blends harmoniously with the fresh vegetables and hearty pasta, making it a refreshing yet satisfying choice.
Quick Recipe Steps:
Boil Pasta: Cook pasta, drain, rinse, and transfer to a salad bowl.
Prepare Dressing: Whisk together dressing ingredients.
Assemble Salad: Add salad ingredients to pasta, drizzle dressing, toss well, and serve.
Check out Cafe Delites'Lemon Herb Mediterranean Pasta Salad Recipe for a more detailed version of this recipe.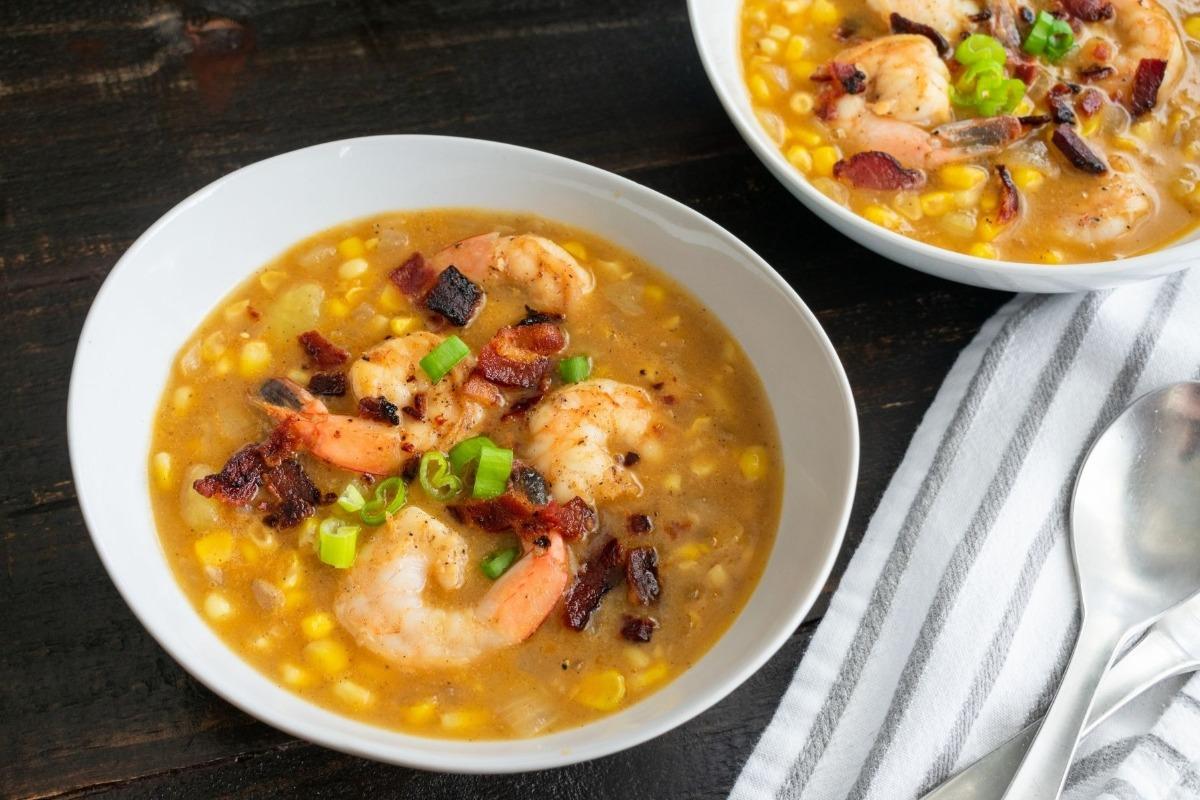 Creamy Broccoli Slaw
Prep Time: 15 minutes | Total Time: 15 minutes
Imagine the crunch of broccoli mingling with the sweet tartness of apples and cranberries as you enjoy a bowl of Creamy Broccoli Slaw, with the ocean breeze carrying away the day's stress. This recipe is not only a feast for the taste buds but also a colorful spectacle for the eyes, perfect for a light lunch on a sunny fall afternoon at Topsail Island.
Quick Recipe Steps:
Prep Apple: Cut a granny smith apple julienne style and mix with lemon juice to prevent browning.
Prepare Dressing: Mix mayo, vinegar, sugar, and celery seed. Set aside.
Assemble Slaw: In a large bowl, combine broccoli slaw mixture, apple slices, dried cranberries, and sunflower seeds. Add dressing and toss to combine.
Check out Spend With Pennies' Creamy Broccoli Slaw Recipe for a more detailed version of this recipe.
Holiday Spiced Punch
Prep Time: 15 minutes | Cook Time: 10 minutes
Refrigeration Time: 12 hours | Total Time: 12 hours 25 minutes
Picture a cozy evening at Topsail Island with a glass of Holiday Spiced Punch in hand. The sweet, spicy aroma and the effervescence of sparkling wine make this punch the essence of holiday cheer. But the great thing about it is you can also make it as a mocktail!
Quick Recipe Steps:
Prepare Syrup: Combine sugar, water, and spices in a saucepan, simmer for 5 minutes, cool, and refrigerate overnight.
Mix Punch: Blend cranberry, apple, and orange juices with spiced syrup in a punch bowl.
Serve: Ladle juice mixture over ice, top with sparkling wine, garnish with orange slices and cranberries.
For a more detailed version of this recipe, check out Bakers Table's Holly Jolly Spiced Christmas Punch Recipe.
Topsail Island, NC, offers more than just summer fun. It's a year-round paradise, especially when you have these comforting fall recipes to enjoy. If you're looking for a place to stay for a fall getaway, we provide the perfect setting to make these culinary delights come to life.
Our vacation rentals have fully equipped kitchens, spacious decks, and breathtaking ocean views, all perfect for holiday family gatherings at the beach. So why wait? Browse our vacation rentals and make a reservation for this festive fall season today!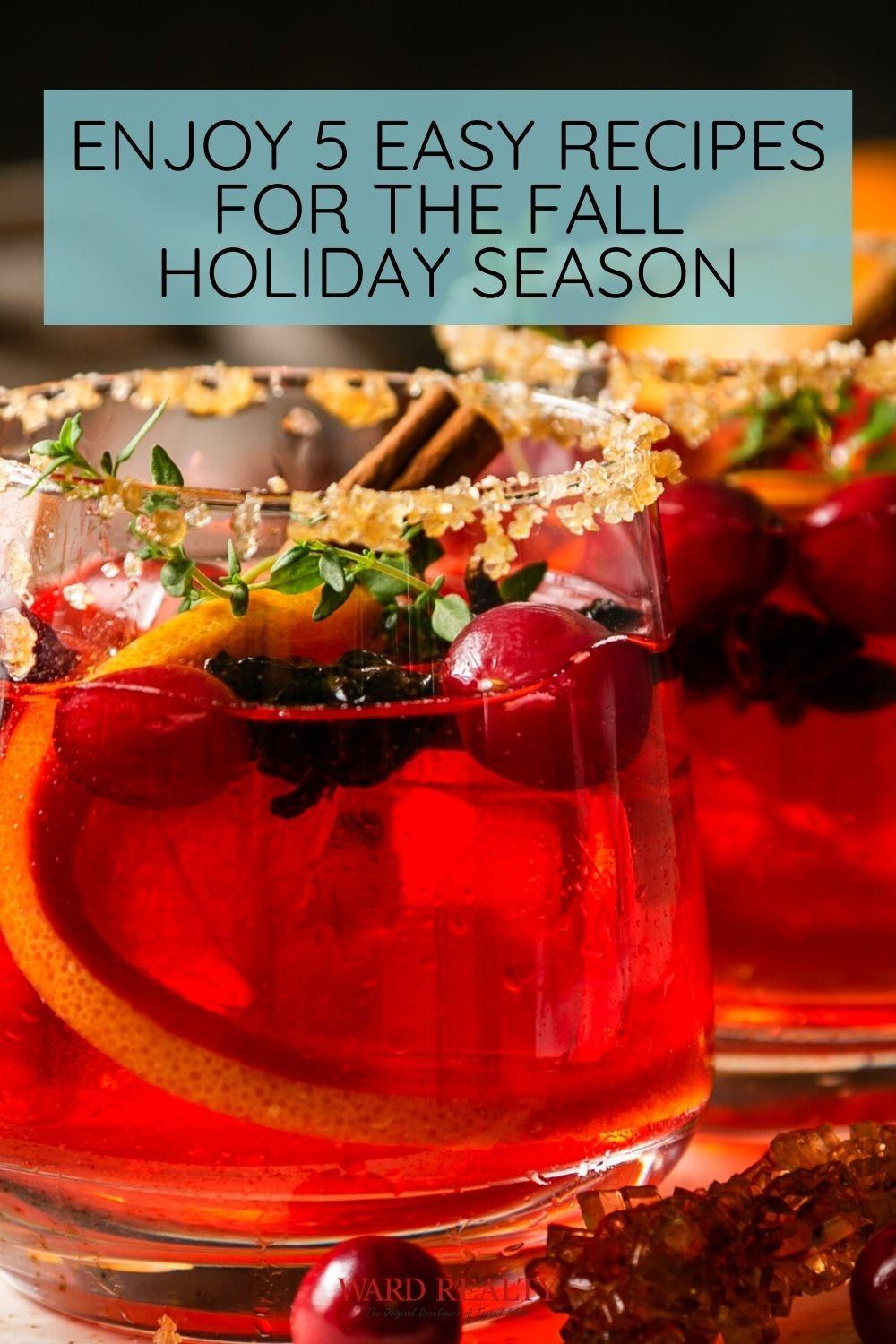 What's Your Favorite Fall Holiday Recipe?
Let us know in the comments!