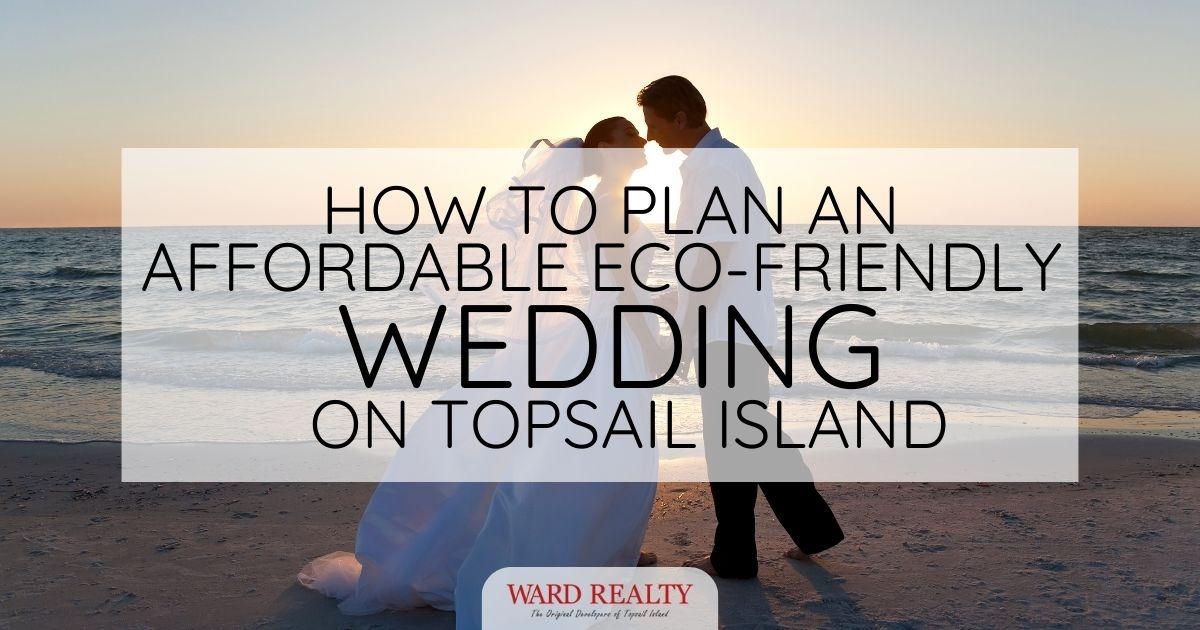 Planning a wedding is an exciting time filled with opportunities to express your love in beautiful and unique ways. Topsail Island stands as a beacon of hope, offering a rich array of options for an affordable, eco-friendly, and utterly romantic coastal wedding. Join us as we explore the possibilities, ensuring your dream wedding comes true without stretching your budget.
Venues
Choosing the perfect venue is the cornerstone of wedding planning. Topsail Island offers options to suit different tastes and budgets. Consider The Nook at Sneads Ferry, known for its beautiful and affordable wedding experiences, including elopement and travel packages that ease the planning process.
Alternatively, renting an oceanfront beach house could be ideal if you dream of a small, intimate wedding. This option offers a breathtaking backdrop for your ceremony and a splendid accommodation for your guests, blending the comfort of home with the luxury of a beachfront view. It's also more eco-friendly because fewer resources are used than at hotels.
Whichever option you choose, you're guaranteed a picturesque and affordable wedding, leveraging the natural beauty of Topsail Island to craft a truly unforgettable day.
Accommodations
Even if you do not choose to rent a beach house for your venue, it is still a great way to find suitable and fun accommodations for your wedding guests. Renting a beach house can be more affordable than having multiple hotel rooms. Plus, it gives you and your guests plenty of space with the comforts of home.
Officiant
Finding the right person to officiate your wedding is crucial. You might consider a local minister to perform the ceremony. Rev. Angela Kelley is a seasoned officiant who conducts weddings on Topsail Beach, embracing a wide range of faiths, beliefs, and diversity.
With over two decades of experience, she is deeply passionate about helping couples create ceremonies that authentically honor and represent their unique love. Working closely with you, she'll ensure your special day embodies all the dreams and aspirations you've envisioned for this momentous occasion.
Photography
Capturing the beautiful moments of your wedding doesn't have to be expensive. Consider enlisting a talented friend or family member to take photos as their wedding gift to you.
Alternatively, set up a DIY photo booth with a beautiful backdrop and provide props for guests to take fun, memorable photos. And you could also ask guests to take pictures throughout the day to capture behind-the-scenes moments.
Flowers and Decor
Embrace the minimalist theme by opting for simple yet elegant decor. Utilize reusable items like fabric drapes and candles to create a romantic atmosphere. Instead of cut flowers, consider using potted plants from a local garden center that can later be planted in your garden, serving as a living memory of your special day. Or you could also give them to guests for their homes. When it comes to flowers, opt for locally sourced flowers from a local florist to add a natural and local feel to your wedding.
Catering
Consider a potluck-style reception to keep costs low and involve your guests in a unique, personal way, with everyone bringing a dish to share. It fosters a communal dining experience with your loved ones' favorite foods and meaningful contributions.
If a traditional approach is more your style, Island Brothers Catering on Topsail Island is a fantastic choice. They cater to small, relaxed beach weddings and larger traditional events, working with your budget and theme to ensure your special day is delicious and unforgettable.
By exploring these food options, you can ensure a dining experience that is both affordable and enjoyable, allowing you to celebrate your love surrounded by good food and great company.
Dress and Attire
Encourage a culture of sustainability by opting for second-hand or rented wedding attire. Choose simple, timeless jewelry pieces you would likely wear again. Encourage guests to wear outfits they already own, promoting a sense of comfort and familiarity.
Rings
A popular trend for eco-conscious couples is choosing rings that are ethically sourced. Another idea is to consider vintage rings to reduce your ecological footprint. It helps the planet and adds a story and depth to your rings, making them even more special.
Gifts
Instead of traditional gifts, ask your guests to donate to a charity that holds a special place in your heart. It reduces waste and allows you to give back on your special day.
Embrace the essence of a minimalist wedding by celebrating love with simplicity and mindfulness. Let Topsail Island be the canvas for your joyous day, offering a beautiful, affordable, and eco-friendly setting for wonderful memories that will last a lifetime.
As you plan this significant chapter at Topsail Island, remember that the most cherished moments stem from love and unity. Whether through the comfort of a beach house or delightful local catering, your dream wedding is within reach. As we conclude, we invite you to envision the magical moments awaiting you at Topsail Island. If you have any questions, feel free to contact us, and we'd love to help you plan your stay and your special day!
Do You Have Any Amazing Beach Wedding Tips to Add?
Leave your favorites in the comments!