Weddings & Special Events
Topsail Island NC is a great place to get married! Perform the wedding ceremony on the white sandy beaches of Topsail and then have the reception at one of the island's great facilities. Rent vacation rental homes from Ward Realty to accommodate your family. Members of our staff have been married on the island and they would not change a thing! The choice is yours and the opportunities are plentiful. Make it a time to remember forever!
Not only are weddings a great thing to have on Topsail NC, but other special events can be performed as well. One thing that is very special to us are the homecoming celebrations for our heroes overseas. Camp Lejeune (Jacksonville NC) is only 30 minutes away and Fort Bragg (Fayetteville NC) is about 2 hours away. Topsail Island is the perfect place for families to welcome home these men and women who deservingly need a vacation. Ward Realty is proud to help provide accommodations to those who have sacrificed so much.
Below, we have provided many vendors for your wedding or special event for you to contact. If you need recommendations we will be happy to assist you.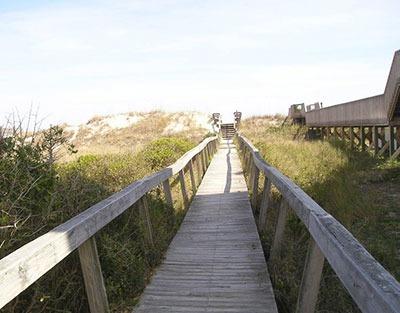 Churches
Chapel By The Bay - 216 Michigan Ave., Holly Ridge 910-328-6252
Emma Anderson Memorial Chapel - 1100 S. Anderson Blvd., Topsail Beach 910-328-6100
Faith Harbor United Methodist Church - Hwy 50, Surf City 910-328-4422
St. Mary Gate of Heaven Catholic Church - 420 N. Topsail Dr., Surf City 910-328-5224
Surf City Baptist Church - N. Shore Dr. Surf City 910-328-2831
Facilities/Venues
Party Supplies/Rentals
Photographers
Wedding Planners & Guides
Caterers
BBQnIt - 1266 Belt Rd, 910-289-1594
Sawmill Grill - 15919 US Hwy 17 S, Hampstead 910-270-0056
Some of our local restaurants will cater your event. View Topsail restaurants here
Florist
---