Guest Services & Rental Items | Topsail Island Vacation Rentals
Most of the rental homes with Ward Realty do NOT provide bed and bath linens. If a home offers linens, then the specific beds and stay periods will be stated in the property's description and list of amenities. For those properties that do not offer linens, properties that offer only certain linens, or for properties that offer linens for certain periods of reservation times, Ward Realty, through a third party vendor, offers linen rental items as well as other items such as baby equipment or beach gear to help make your trip down to Topsail Island easier (and lighter!). Our reservationists will be happy to assist you for scheduling these services or order online at the time you make your reservation. If you or someone in your party has a special need that is not listed, please call our office and we will assist you in any way that we can. All rental items will be delivered to the property by the end of check-in day. Rental items will be picked up on departure day. Please place all linens in the bags/bins provided and place all rental items by the main entrance door. Please make reservations for these items as early as possible. Prices are per reservation and do not include applicable taxes.
In the event you find that you do not need the items rented, a full refund will be made provided you cancel at least 14 days prior to your arrival date. A restocking fee of $25 will be applied for cancellations made less than 14 days.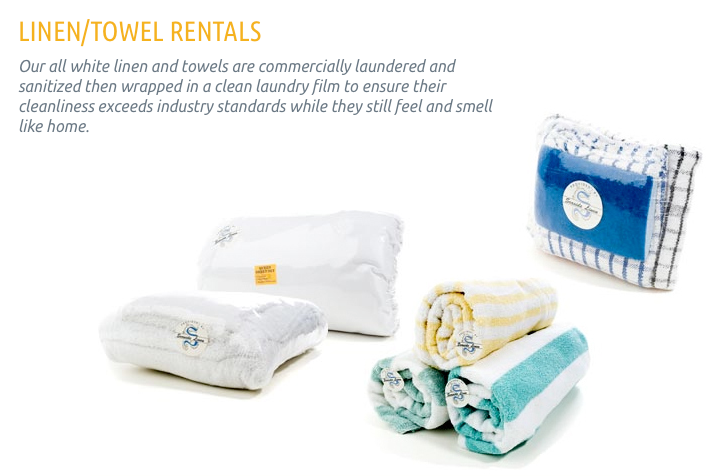 **Please Remember That Linens Are Not Provided With Our Rental Homes Unless Otherwise Stated**
Linens
King, Queen & Double Bed Sets Include: 1 flat sheet, 1 fitted sheet, 2 pillowcases, 2 bath towels, 2 wash cloths & 2 hand towels
King Bed Set - $32.00
Queen Bed Set - $30.00
Double Bed Set - $28.00
Single Bed Set Includes: 1 flat sheet, 1 fitted sheet, 1 pillow case, 1 bath towel, 1 wash cloth & 1 hand towel
Additional Towel Set - $8.00 (1 bath towel, 1 wash cloth & 1 hand towel)
Beach Towel - $5.00
Bath Mat - $3.00
Baby and Beach Equipment Rentals
Prices are per week only. If you are renting a property for longer than one week, please call the office for special pricing.

Baby Gate (Standard) - $25
Baby Gate (Extra Wide) - $25
High Chair - $40.00
Full Size Crib - $90.00
Beach Cart (Wonder Wheeler) - $50
Beach Wagon - $80
Beach Chair (Aluminum) - $25.00
Beach Chair (Lg. Wooden) - $30.00
Beach Umbrella (8' Wooden) - $50.00
Cooler (60 qt. on Wheels) - $30.00
Guest Amenity Bag
The Guest Amenity Bag contains items you'll need to start your vacation. No need to stop at the store!
Includes: 1 - Roll of Two-Ply Paper Towels, 2 - Rolls Toilet Tissue, 2 - Bars Bath/Body Soap, 2 - Shampoo/Conditioners, 2 - Moisturizing Lotions, 1 - Liquid Dish Soap, 1 - Dishwasher Crystal Pack, 1 - package of 12 Cup Special Roast Coffee

Cost is $15 per bag and you can order as many as needed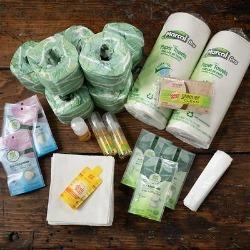 Our Vacation Essentials Kit is packed with all the household basics needed to keep you stocked for your entire getaway!
Faxes
- $2.00 first page, $1.00 each additional page (sent or received)