Why Choose Ward Realty as Your Topsail Island Property Manager

Why Choose Ward Realty as Your Topsail Island Property Manager
Choosing Ward Realty as Your Property Manager Means You'll get the Best Service
Experience
Ward Realty, the "Original Developers of Topsail Island", is a full service real estate firm. We began selling real estate on Topsail Island in 1947, and we began renting homes on the island in the late 1950's.
We understand the Topsail Island tourism market backwards and forwards. We have accommodated multiple generations of guests and we understand that each generation's needs and wants are different. Our marketing plan is tailored to families because that is what Topsail Island is, a great family beach.
Our experience helps us reduce expenses and maximize income for you. We are here to manage your bottom line and exceed your expectations. Our turnkey service allows us to handle everything from the marketing to housekeeping to guest services. Provide us with a well maintained home and you can just sit back while we send you an income check.
We perform research and use technology to help us understand our industry and more specifically, our market, to help the homeowner. We use pricing models and comparisons to establish most profitable price point for every home we manage. We also know what amenities draw the best return and how to best improve your home's value with the least cost. Our experience has taught us what works and what doesn't. And we are happy to share this experience with our homeowners.
We currently have over 280 vacation rentals in our inventory thereby assuring the vacationing public a place for any location and budget. With over 4500 reservations each year, we have numerous repeat visitors with some coming back annually for well over 20 years.
Reputation
Our reputation on the island is key to our success. We have very low turnover with homeowners and our repeat guests are testimonials to our respected reputation. We are here long-term and our attitude and methods prove that. In fact, according to our guest survey results sent to each and every guest - 98% of guests would return to Ward Realty for their next Topsail Island vacation!
We have such a great reputation and see numerous repeat visitors because we employ a year round staff that cares about Topsail Island and understands what it takes to be in the hospitality industry. We also hold ourselves to a high echelon of customer service, reliability and honesty for you and the guests. This attitude and dedication of doing things the right way is what has kept us in business since 1947.
Full-Time Professional Staff
Our Rental Department is fully staffed with highly trained and experienced professionals. Though our staff may have different specialties, all are capable to handle anything that comes our way. We are open seven days per week (6 days in December) and are available to attend to both our property owners and our guests. All personnel are trained continuously throughout the year in customer service, legal issues, technology and other operations. Most importantly, we understand the power of a smile, a friendly attitude and willingness to help.
Two Property Managers
Reservation Specialists
Accounting- Trust Accounts
In-House Maintenance Coordinators
In-House Housekeeping Coordinators
Contracted Housekeeping Staff
Quality Control Inspectors
Marketing Professionals
Licensed Realtors
Customer Service
We take great pride in our customer service and doing things the right way for our owners and our guests. We believe that we have the professional experience, marketing, commitment to the owner and guest customer service and hospitality to be the best vacation rental company on Topsail Island. No one will provide the same level of customer service on the island for both you as the owner, and the guest.
At Ward Realty, our 70 years on Topsail Island has proven our results will be steady, transparent and adaptable as well. We treat our homeowners as family and we work hard together to be successful.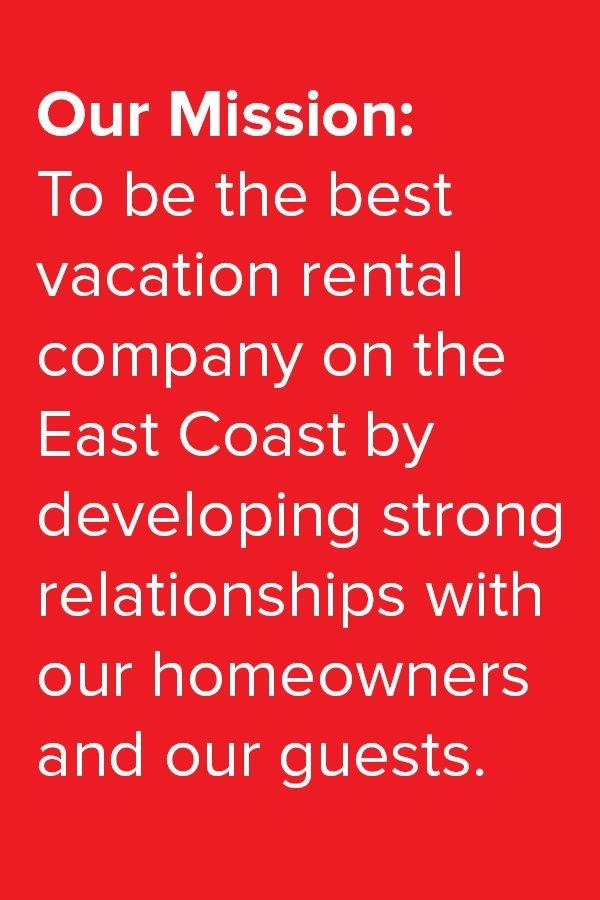 At Ward Realty, we treat your beach house like it was our own. We are here to maximize your rental income AND to look after your home, all while minimizing expenses. It's fair and honest business practices, with a lot of southern hospitality, that make us stand out from the rest.
We go the extra mile for our homeowners, because while we are built for volume, we act like we have one home to manage – yours. Click here to learn more about what Ward Realty can do for you as a Topsail Island vacation rental owner.
Let's Get Started
Topsail Island's visitors are diverse and looking for a variety of options when they are planning their vacation. That's why we keep a diverse inventory of homes. We are always growing and looking for new homes to offer our guests, so give us a call if you have a home located on Topsail Island, whether it be North Topsail Beach, Topsail Beach or Surf City; we would love to speak with you about joining our vacation home program.
Please fill out the form and we will be in touch within 24 hours. We look forward to speaking with you!
Property Management Inquiry
Please fill out the form below and we will reach out to you shortly