Topsail Island is a beautiful place to visit, with its pristine sandy beaches and clear blue waters. However, it's important to remember that the ocean can be dangerous, and practicing safe swimming is essential. In this blog post, we'll discuss tips for staying safe while swimming on Topsail Island. But before we dive in, if you're planning a vacation to Topsail Island, check out our amazing vacation rentals perfect for your summer trip!
#1. Never Swim Alone
Swimming with a buddy is always best, especially if you're not a strong swimmer. If you decide to swim alone, ensure someone knows where you are and when you plan to return.
#2. Be Aware of Rip Currents
Rip currents are strong currents of ocean water that flow away from the shore. If you get caught in a rip current, don't try to swim against it. Instead, swim parallel to the beach until you're out of the current, and then swim back to shore. Check out North Topsail Beach's website for the current riptide risk and more information on how to stay safe.
#3. Observe Advisory Signs or Flags
Each public beach access on Topsail Island has advisory signs that provide information about the water conditions and potential hazards. Be sure to read these signs and follow any instructions provided. Also, take note to look for any flag warnings. Topsail Island uses a color-coded flag system to warn swimmers of potential hazards, and it is strongly recommended beachgoers use this system to understand when it is safe to swim in the ocean.
Red flags = High Alert - Swimmers are advised to avoid swimming due to potential dangers from strong surf and currents.
Yellow flags = Medium Risk - Moderate hazards exist, which could be potentially dangerous for people who can't swim or those who are not strong swimmers. It is recommended to avoid swimming unless you're a strong swimmer.
Green flags = Low Risk - This means conditions are great for swimming, and there are minimal risks to all swimmers. However, always being aware of your surroundings is still a good idea.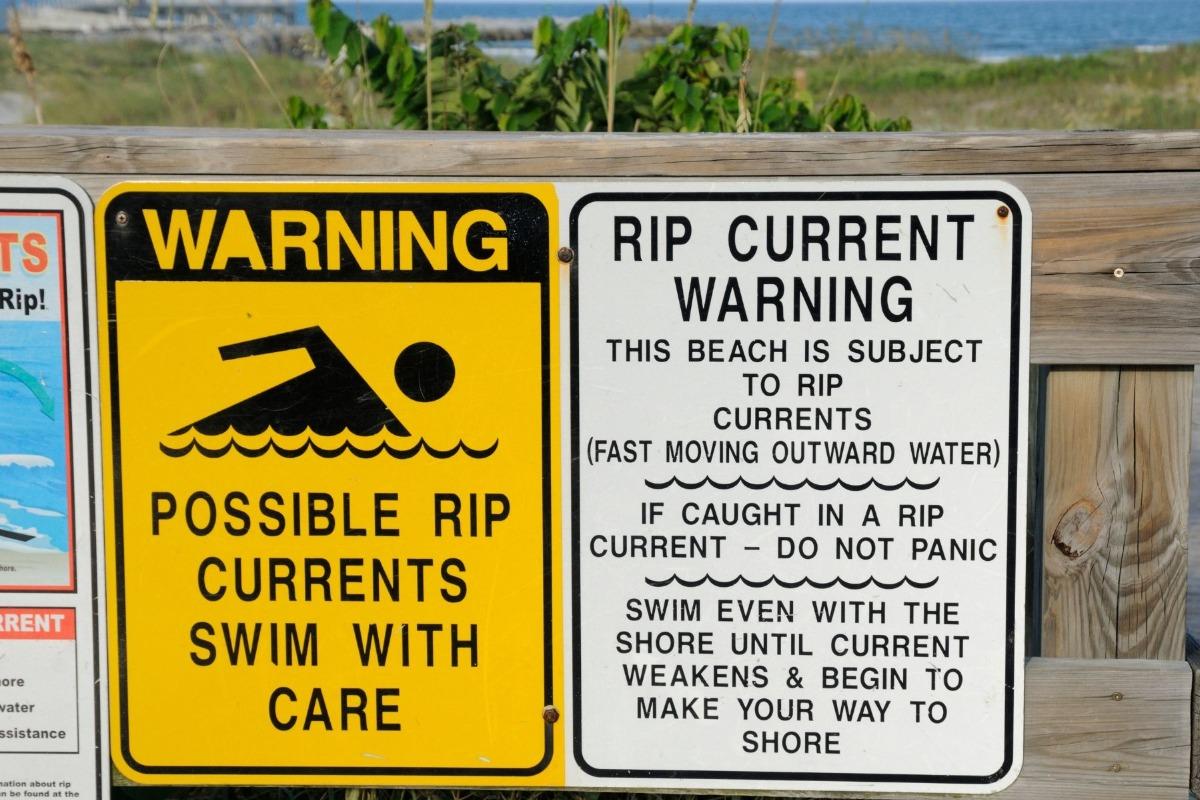 #4. Be Courteous to Others
Be mindful of other swimmers and people out in the water. And stay a good distance from people who are fishing so you don't get caught up in their hooks and lines.
#5. Lifeguards on Duty
Topsail Island does not have any lifeguards on duty. So, following safe swimming practices and being aware of your surroundings is important.
#6. Swimming in the Sound
While most people use the sound and canals on Topsail Island for activities like kayaking, crabbing, and fishing, swimming in the sound is not recommended. The bottoms of the canals and the sounds can have sharp objects or other hazards that can be dangerous for swimmers and even pets.
#7. Jellyfish
Some jellyfish, such as cannonball jellies, are harmless. However, others, like man-of-war jellyfish, sea nettles, lion's mane jellyfish, and box jellyfish, are potentially harmful and can cause painful stings. You shouldn't touch them if you don't know what they are, and keep your kids and pets away from them.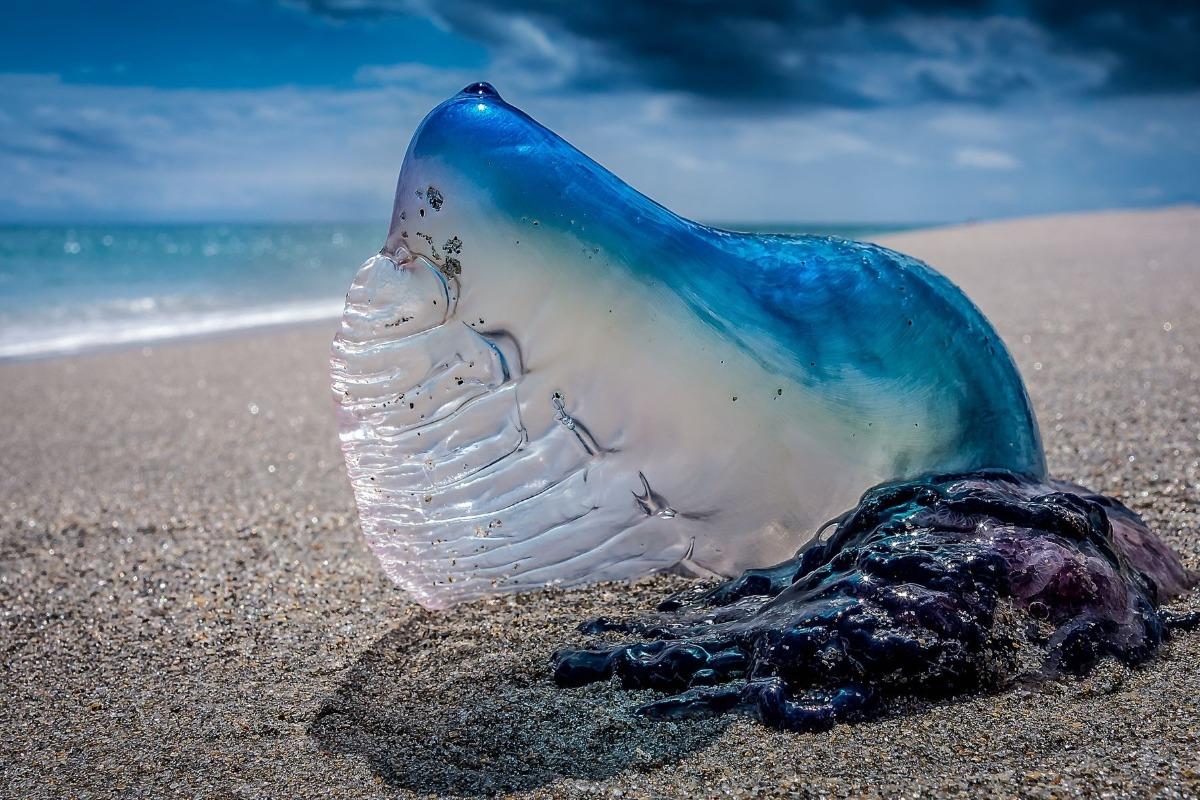 #8. Sharks
While shark attacks are rare, it's important to keep a lookout for them. And even avoid swimming near piers, as they attract baitfish that sharks feed on and are a likely place for sharks to swim if they are in the area.
#9. Sea Turtles
Loggerhead sea turtles are present at Topsail Island and are federally and state-threatened. It's important to avoid disturbing sea turtle nests and to keep a safe distance from sea turtles in the water. Also, stay off the dunes to help protect the habitat where sea turtles lay their eggs and, in turn, provide nutrients for the vegetation.
#10. Trash and Recycle
Trash, including plastics and other litter, harm marine life and wildlife. Be sure to dispose of waste properly and avoid leaving litter on the beach. Bonus points if you see trash lying around and toss it in with yours!
#11. Check Before You Go
If you plan to swim in the ocean, be aware of potential hazards and dangers by checking local and national websites for current information. Here are some websites you can check before you go for information on beach and water conditions:
National Weather Service: The National Weather Service provides information on rip currents and other beach hazards. Check their website for safety tips and information on beach conditions.
WECT: WECT is a local news source that provides information on beach advisories and water conditions. Check their website before you go for information on swimming advisories and bacteria levels.
Following safe swimming practices can help ensure your Topsail Island visit is safe and enjoyable. And if you're planning a vacation to Topsail Island, check out our specials and deals on vacation rentals. Our properties have excellent amenities, prime locations, and stylish furnishings; they're the perfect place to relax and enjoy all that Topsail Island offers.
WHAT'S YOUR BEST SAFETY TIP FOR THE BEACH?
Let us know in the comments!